ActionAid Celebrates 20 Years of Development Work in Tanzania
The 30th of November, this year, was a very special day for ActionAid Tanzania (AATZ) family. The day saw AATZ staff, board, AGM members, representatives of partners, community-based organizations and journalists coming together in Dar-es-Salaam to celebrate the organization's 20 years of contribution and credible success gained in the fight against poverty and injustice.
The event was a culmination of series of events conducted across Local Rights Programmes (LRPs) to also give the opportunity for communities and other stakeholders at grassroots level to celebrate the achievements of the journey which they have been part of. The theme of the event was,"AATZ 20 years in fighting poverty and injustices."
During the opening, AATZ Board Chair Ms Mary Nsemwa told participants that the aim of coming together is to join hands and celebrate all the achievements as a family. 
''We are here because our hearts are full of joy and we can't keep quiet. It has been a long journey of ups and downs. Why not celebrate?. We started as a small programme, but now, we are standing on our own feet with lots of successes which we have not achieved ourselves but together with women, farmers, CBOs, and other stakeholders.''
Sharing the 20 years journey to participants, AATZ Country Director, Mr Yaekob Metena said it started way back in 1998 when ActionAid Kenya initiated a small-scale education programme funded by DFID in Makata and Kibutuka division of liwale and Ilagala division of Kigoma regions, with the intent of reaching needy people.
The programme focused on rehabilitation of school infrastructure and developing the capacity of School Management Committees. Therefore, ActionAid Kenya's intervention laid the foundation for the establishment of a fully-fledged country programme in 2000, with the support of ActionAid International. He also added that on this long journey of the organisation, thousand people benefited from the development programme implemented in various locations.
"We have supported community initiatives to have community-based organisations, awareness of land rights to smallholder farmers, enabled children access improved learning environment, enhanced citizen participation in governance and decision-making process, formation of rural women farmers platforms and contribution in the process of setting policies and laws that are more responsive to poverty alleviation,"
A beneficiary from Tandahimba, Somoe Kusikitika while sharing her testimony said; "Since AATZ started to work in our area, a lot has changed. Through the capacity given to us, women are empowered and are now free to engage in economic activities, something which was not easy before. We have also seen positive results in our fight against harmful traditions and practices which were hindering women from owning land."
She added that, before AATZ intervention, women were living in abject poverty and there were areas where they were not able to read and write, but through AATZ involvement many women are now educated, they can read and write and they are engaged in different economic activities which have improved their living conditions.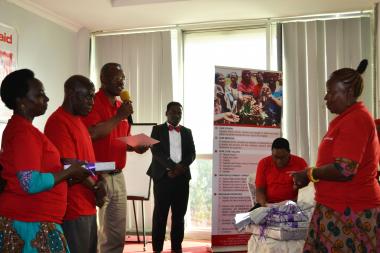 Mahmood Salim from Liwale said, "I am here today because of AATZ. If it was not ACCESS centres established by the organisation, may be today I could not have been here. This is because my parents were living far away, and it was not easy to access school due to long distances. But AATZ constructed the ACCESS centre which I was enrolled for two years then later I joined normal primary school education,".explained Salim.
Edward from Kigoma appreciated AATZ for the intervention as it has transformed many youths by helping them get educated through ACCESS centres and also left a legacy that has continued to bear fruit even after AATZ has moves out of the area.
Also, as part of the event, some of members of women rights organisations, staff and board members were recognised for their contributions towards the organisation's achievements.
Stakeholders from different parts of Tanzania and other countries congratulated AATZ for the long journey and all the contributions in the development of the country. "I am encouraged by the work being done by AATZ and I urge you to continue with the good work." said Adriano Campolina Action International CEO, who joined the event through skype.