ActionAid Tanzania Participates in The CSO Week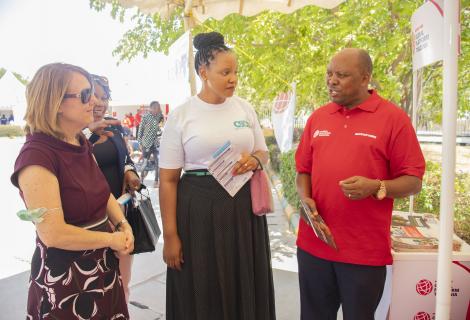 Action Tanzania last week joined other CSOs in the country in the week-long event (CSOs week)   which took place in Dodoma from 23rd -28th October 2021.
The CSO week is the annual event organised by a consortium of Tanzania based local and international Tanzanian Civil society organisations.
The primary objective of the event was to strengthen relationship between key development actors including CSO-government relations, CSO-parliament relations, CSO-private sector relations, CSO-CSO relations,and CSO-citizens relations.
The opening ceremony was graced by Hon JOB NDUGAI Speaker of National Assembly and the official theme of the event was "CSOs contribution to the National Development"
The week was preceded by a two-day exhibition where all participating SCOs got an opportunity to showcase their work to the public.
During the event, AATZ also  had an opportunity to showcase and share its work to the citizens who visited the booth. It was an awareness raising opportunity where people get time to know what the organisation is doing in the communities in general.
Apart from exhibitions, there were difference conferences with different agendas where all participants had an opportunity to attend relevant session to them.
For more information about ActionAid activities during the event, please follow us on our social media channels; https://twitter.com/ActionaidTz