GOVERNMENT ADMIRES ACTIONAID TANZANIA'S CLIMATE JUSTICE CAMPAIGN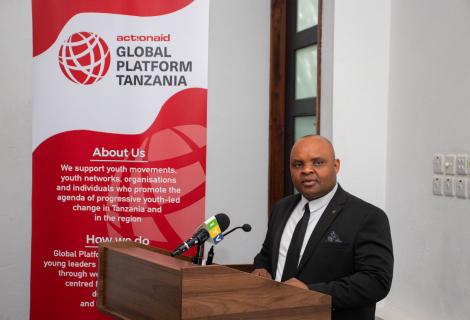 The Deputy Minister, Office of the Vice President (Union and Environment) Hon. Khamis Hamza Khamis has called on Actionaid Tanzania to support an environmental awareness campaign through its environmental justice program, a youth-led green solutions program.
 He made the call in Dar es Salaam during his inaugural speech while officiating the African Liberation Day themed on "Climate Change and Environmental Justice" organized by GP Tanzania, the Actionaid Tanzania youths wing held on May 27th, 2022.
 Hon. Khamis said environmental justice is about developing a system to ensure that human beings and ecosystems are treated fairly in ways that will reduce climate change and other environmental challenges.
 "People should be informed and involved in making decisions about their natural resources and moreover, they must be educated on environmental matters, be well informed of their rights and responsibilities in environmental matters," he said.
 In addition, the deputy minister added that to achieve environmental justice, Tanzania created a legal framework based on environmental rights that require people to have access to clean air, water, better land, and a healthier society. But he added that, its high time that we should assess our ways of living to ensure that our economic activities do not contribute towards environmental destruction.
 He clarified that the National Environment Policy 2021 identifies the role of various stakeholders to ensure the issue of environment becomes a priority when making decisions on the implementation of economic activities. In addition, Environment Management Act (EMA), 2004 gives provision(s) that addresses the issue of Climate Change, and the rights of people to seek environmental justice.
"For example, Article 172 deals with the right to environmental rights, Article 178 provides mandatory requirements for public participation in environmental decisions and further, Article 202 (e) provides for the right of individual to sue in the interests of the environment, so take note that if anyone found to engage in the environment destruction actions, is liable for prosecution" he remained the cross section of youths in attendance of the conference.
"My plea and emphasis go to; Trees Planting and nurturing, Conserving Water sources, practicing good land use and passing knowledge on Environmental keeping, these are areas if well focused our country and the world at large will be a better place for the future generations to come", Hon. Khamis stressed.
 Nevertheless, Deputy Minister Khamis said global warming has led to dramatic and rapid changes in climate and ecological systems.