A Need for Sustainable Response to Climate Change Impacts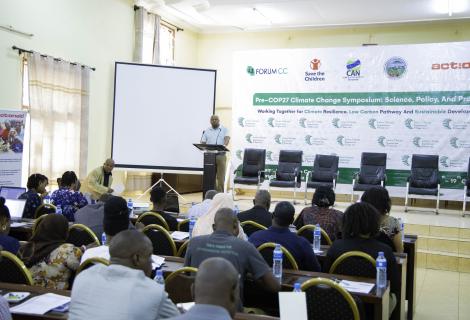 ActionAid Tanzania in partnership with Forum CC, Save the Children Tanzania, Climate Actions Network Tanzania, and Pastoralists Indigenous Non-Governmental Organization's (PINGO's) Forum is conducting PreCOP27 Climate Change Symposium on Science, Policy & Practice Themed "Working together for Climate Resilience, Low Carbon Pathway and Sustainable Development"
This year's Climate Change Symposium towards COP27, has been designed to encourage grassroots community members' interactions with dialogues on science, policy, and practice.
This initiative provides space for more than 200 participants from Civil Society Organizations, Women, Young People, Pastoralists, Smallholder Farmers, Fisherfolks, representatives from the MDAs, and Local Government Authorities, Development Partners, the Private Sector, and Media. The event will cover synergies and trade-offs between adaptation and mitigation as reflected in the National Climate Response Strategy (2021-2026) and the Nationally Determined Contributions (NDCs).
It is notable and on a large scale that the effects of climate change are becoming more destructive every year. Communities in different parts of the globe are being hit squarely even though their contributions towards the climate crisis are so little. The rising sea along the coastal areas is increasingly displacing mankind from both their long-established economic activities as well as the houses which pose a great social security and unpredictable livelihood.
Not Only the rising sea, floods and heat waves also have seriously caused unprecedented losses and damages to human life like intense drought and infrastructure demolitions.
To recover from the aftermath of the climate crisis, access to funding is such a crucial agenda to resuscitate the communities from the evident "loss and damage" caused by the of Climate impacts. It is a strong call that during the forthcoming COP27 should look at establishing sustainable funding facilities and plans to respond to the climate-induced loss and damage.