Empowering women to demand access and control of natural resources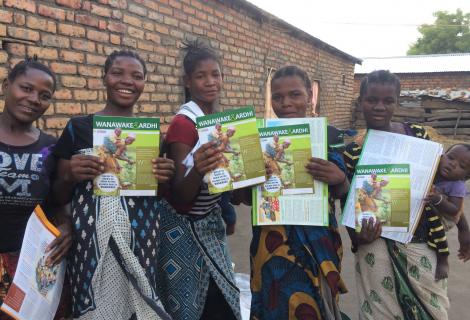 Why women empowerment on land ownership?
Over 60% of women in Rukwa and Katavi regions are engaged in farming activities, but most of them lack land and other resources. Even though the constitution and Village land Act guarantees that women, just like men have the right to land and other productive resources, many of them are still left out due to tradition and cultural practices.
To address this challenge that restrict women from their right to access and control of natural resources, especially land, AATZ in collaboration with LEAT, Haki Ardhi and other CBOs in Rukwa and Katavi regions organised village public sensitization dialogues aimed at empowering vulnerable groups on their right to land and other productive resources.
The village dialogues were part of the Shared Resource, Joint Solution (SRJS) project activities and were conducted in 10 villages in the districts of Kalambo, Nsimbo, Mpimbwe and Sumbawanga DC in Rukwa and Katavi regions. The forums brought together 1,086 participants in which 347 were women.
Key issues discussed during the dialogues include gender equality, natural resources conservation, land rights and land use planning.
The issue of land ownership by women brought a heated debate during the dialogue as most men still doubt if it is right for women to own land. "I don't think if it's fair for a woman to own land because at any time she can get married and move to another man. Also, a man is the leader of the family, hence he is the only one entitled to land ownership," commented Mashaka Dotto at Ilalanguru Village.
Without hesitating, women stated that it will take time for them to be able to realise the right to access and control resources due to patriarchal system that is dominant in their communities.
"In our society, women are still not valued, and they don't have any voice. Sometimes when a woman speaks at a meeting, people will start to discuss and judge her. Some are beaten by their husbands when they try to be vocal." explained Juliana Samson from Mirumba Village.
Along with other women, Levina Hillarion is optimistic that knowledge and awareness on women's rights and especially right to access and control to land is still needed to enable behavioural change.
 Lack of effective participation of women in decision making bodies/forums and meetings was also mentioned to be one of the notable challenges. Community Development Officer for Mpimbwe, Mr Godfrid Nkuba explained: "It's difficult for women to speak in front of men. Sometimes  we separate them from men so that they can be able to speak. But the situation is improving because of awareness programmes we have been conducting in collaboration with other partners," commented Nkuba.
"We have also started to organise women in groups to help them access opportunities eg start up capital for  income generating activities. As of now we  have more than 160 small-scale women groups and one SACCOS" He added
 Gender inclusiveness is among of key focus areas of the SRJS programme. The initiative advocates for gender mainstreaming in natural and productive resource management through undertaking awareness programmes  for women and other vulnerable groups to equip them with the knowledge and information that they have a right to land and possession of certificates  of customary of occupancies(CCROs).
The project further aims to empower women to participate in policy influencing. SRJS Tanzania programme aims that Rukwa and Katavi landscapes be sustainably managed and climate resilient with water sources, biodiversity and local communities livelihoods secured.